Well, here's the thing. I've suspected this for a while, but looking at the latest promotional still of Nikki Reed as Rosalie Hale in New Moon, I've come to the conclusion that someone out there is not a Nikki Reed fan and . . . it's the guy with the camera.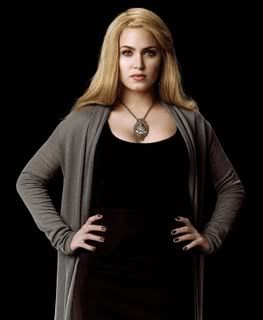 Seriously, she's not a hideously ugly individual in real life,
even if she dates that douche Paris
. So what is with these photos? Even though she is in all black, with the hair and the angle, the photographer still manages to make her look puffy and "big-boned". For the love, she's supposed to be a goddess of beauty, even if she is a bitch. This just makes her look like she's spent her entire vampire life eating Ben & Jerry's with a nasty case of the cramps.