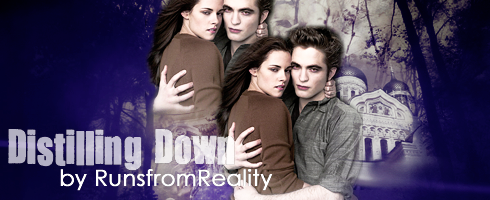 Okay, so my fan fiction story,
Distilling Down
, isn't that famous. Nor am I as an author. The two of us, however, did get interviewed this week by WhyNotFO for the
So You Think You Can Write
blog.
Here are a few takes from their post about the story and the interview:
"
Are you looking for an amazing mindfuck of a story? One where you can't tell which way is up… but you can't wait for the next chapter? I definitely recommend Distilling Down! This is in no way your ordinary, run-of-the-mill Twi love story. We first encounter Bella on a beach, looking at a picture of her smiling in the arms of a man that she was hired by the Volturi to kill? Capture? We don't know. And that is only the first mystery. I don't want to give away too much (like I could!), because I want you to read this incredible story. Take away the Twi garb..uh… STUFF (hint-hint), and this could be a best seller.
The plot winds between Russia, Italy, Washington… and that's just in the first few chapters. We meet old friends, and new characters, as well as the characters we've come to know used in interesting, different ways. Though Emoward remains, he actually has a reason this time! Remember sweet, motherly Esme? Uh-uh. "Independent Operative" of whom even the Volturi are afraid. Jasper? Dark past. Double agent once? Maybe. Same with Laurent. My favorite change up is Boxer Ben. LOL!
And Bella? Ahhh… our sweet, sweet Bella. Deliciously frightening and mysterious. An Angel of Death, who takes vamp and human alike. Some of my favorite lines are at the end of chapter two:
"Pile what up?"
"The same thing she always does, Alice. Bodies. Wherever she is, you know someone's dying."
I'm in authorial heaven over here . . I've never been interviewed as an author before and I'm so happy right now it's ridiculous. Also . . .must work on the story! If they're going to love on me, the least I can do is deliver new chapters!