The latest rumors have Ashley Greene dating Chris Evans. And by dating, I mean she talked to him at a club and maybe flirted a little. It's called a fresh break up and alcohol, not "dating" Chris Evans. Sure, Chris Evans may be getting press at the moment for being Captain America, but seriously, after a Jonas brother who wouldn't you talk to in order forget the all-too-recent past?
Not that Ashley Greene is looking terribly heartbroken.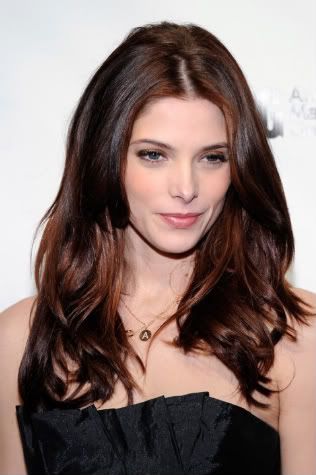 She's got her hair long, a smile on, a necklace I totally want, and nary a Joe Jonas look-alike in sight. Which is just way I like it, because while she was going out with Joe Jonas I almost had to break my don't be mean to Ashley Greene rule. He's just too ... too ... uck, can't even describe it. Just no.
I feel like Chris Evans is a little bit the same way. I mean, he's a nice-ish guy, I guess, and by Hollywood standards he's pretty above board. It's just that he's so boring. Still, after all the Breaking Dawn filming madness and the Jonas brothers freaks that Ashley Greene has been dealing with lately, maybe she wants some boring?